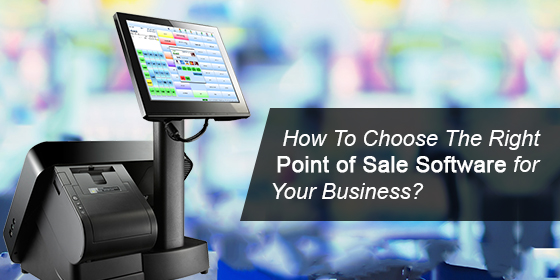 The size of a business or its type doesn't matter. Whether you have a small flower shop down in the suburb, sell your farm products or provide professional services, each and every business has one goal that is monetary transaction.The point of sales system process the daily transactions, provide reporting and can help manage staff and inventory.
When you start a business, you put a lot of time and effort into finding ways to generate high volume of sales. More sales mean increased revenue and in time you can get more opportunity for future business growth.It's important to make new customers and also have loyal customers as they are vital for your business growth. Along with this, a business owner can't neglect the system and process of how the sales transaction works.
This is where the right point of sales system comes into play. The right system will allow not only to conduct business but also helps you in keeping tabs on various daily business activities. With so many systems and solutions available in the market, finding the best, suitable and the right system for your business can be challenging. Here we will provide you with a step-by-step guide that will help you analyse your business and the best system for you. Let's get started.
Analyse your business
There are lots of POS system in the market. Before you jump and go ahead to buy one, first you need to analyse your business needs, what kind of system fits your bill and your activities. Every new system looks shiny, but what is the use of that shiny machine if it doesn't fulfil your basic requirement? That is why detail evaluation is needed before the purchase.
Talk to your staff and ask them for suggestions if they have any by which you can also provide work satisfaction. Also think about the future and what leap can your business take further such as multiple locations/chains, e-commerce sites, coupons and many more.
Management
You are running a business, so of course, you have inventory and customer. You need to keep tabs on your inventory and be up-to-date with the data with every single transaction. How big your inventory is, and on that basis, you can choose a better system.
Additionally, you will need to keep an eye on the customer flow. The data collected from the system can give you insights on customers' behaviour helping you to determine the business strategy.
Hardware
POS system starts with a software, but it requires a hardware system to run on. Small business or markets may only require a tablet and a card reader that communicates with a cloud-based system. But if you are running a larger store or business, you will need more hardware including terminals, receipt printers, and potentially more.
Set a Budget
The cost of POS system varies depending on the size of your business and your requirements. The company offering the service may charge a recurring monthly fee or one-off upfront price. You will also want to consider other factors like setting up, support cost and the lifespan of the product.
Create a short list
As we said earlier, there are lots of system and software out in the market, and the system may or may not fit your bill. Research and prepare a shortlist of all the available software in the market. Compare each of the software with other, and prepare the pros and cons list. Choose the best three that is suitable for your business.
There are many place you can go on to research different systems like:
Online search for potential POS vendors.
Contact retailers and enquire about their systems.
Call upon the help of social media.
If you have any friends or family who are using a system, you can ask for their help too.
POS in action
Knowing the system is not enough, you need to see the system in action. Ask the vendor for a demo or trial. Input all the basic data required and test its speed, accuracy, ease-of-use and functionality. Believe your eyes and your experience of using it, not the papers and advertisements.
Set-up right
Setting your hardware calibration and software is important to get the most out of it. If you are a tech newbie, you may feel out of your comfort zone when setting up at first. Ask for the tech guys help and learn from them. Take time and get it right. 
As setting up the POS system varies according to the businesses, make sure you have all the necessary data like customer and inventory data ready beforehand.
Choosing the right system is important as it will affect your business and your future. We at Coyote Software specialise in supplying the best POS software in Brisbane according to your business needs. Feel free to get in touch with us for any kind of tips and guidance. We are happy to serve you.
Contact us via email sales@coyotesoftware.com.au or call us at (07) 30881288. We will be looking forward to hearing from you.